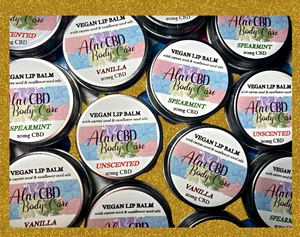 2/$22 Vegan Lip Balm with Sunflower Seed & Carrot Seed Oils
Regular price $24.00 $22.00 Sale
2/$20 pack of Vegan Lip Balm ($12 individually) 
Vegan CBD Lip Balm! 20mg CBD 
Available In Spearmint, Vanilla, OR Unscented  
Dry, cracked, or chapped lips?  Simply want to moisturize?  Alni Body Care Vegan CBD Lip Balm is for you!  Contains coconut oil, Shea butter, & sunflower seed oil for moisture (all organic).  Carrot seed oil adds vitamins & a natural SPF!  Candelilla wax makes it vegan & has a higher melting point than beeswax, so no melted pocket chapsticks! 
Ingredients: Organically-grown Colorado Hemp CBD Isolate; Organic Coconut Oil; Candelilla Wax; Organic Sunflower Seed Oil; Organic Carrot seed Oil; choice of Spearmint Essential Oil (mentha spicata) OR Vanilla Oleoresin OR no scent (unscented) 
FOLLOW on Instagram
@alnicbd  
FOLLOW on Twitter
@alnicbd
Questions? Email alnicbd@gmail.com
Questions? Check out our FAQ page and/or Email alnicbd@gmail.com
View Our Current Lab Reports 
Looking for... Topical CBD Salves? 
Looking for...CBD Tinctures (CBD Oil)?
Looking for... CBD Suppositories? 
*FDA Disclaimer: These statements have not been evaluated by the FDA.  These products are not intended to treat or cure any illness.  Not intended for children.  Please consult your doctor before adding dietary supplements to your regimen.
ram