Bayside Holiday Bazaar this Saturday 9am-2pm
Market will take place in the Health & Aquatic Club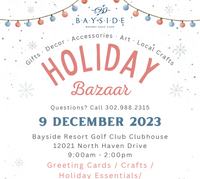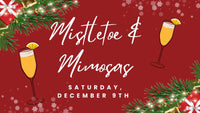 Marlins & Mistletoes Holiday Market at Rehoboth Beach Convention Center
Best-Selling Shower Steamers!
Eucalyptus & Peppermint with Menthol OR Lavender with Menthol!
Shop Shower Steamers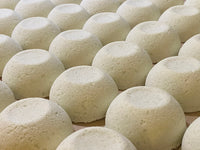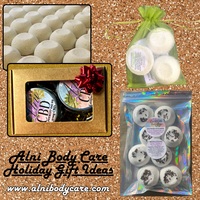 Gift Ideas!
3-packs of Shower Steamers make excellent gifts for anyone & any occasion! Read my latest blog post, a 2023 Holiday Gift Guide!
READ THE HOLIDAY GIFT GUIDE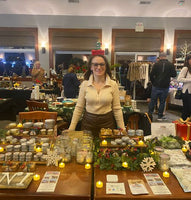 Local Holiday Markets!
Looking to shop Alni Body Care products locally? Take a look at my schedule of upcoming events and holiday markets!
View Upcoming Events
About
About Alni Body Care LLC
My name is Alexandra. After making homemade salves to treat my own chronic pelvic pain from endometriosis & a sexual trauma, I decided to create Alni Body Care to provide high-quality, affordable CBD body products to share with other individuals with chronic illness and chronic pain.  Now I make a variety of products to treat pain & anxiety.  My goal is to educate folks how CBD can help with symptoms of PTSD and pelvic conditions.   Alni Body Care began in Colorado, however in 2018 I moved to coastal Delaware to share my CBD products and knowledge on the East coast.   All of my products are 100% vegan & handmade using the finest Colorado lab-tested, hemp-derived CBD Isolate.  I use CBD Isolate because it contains zero THC, and is therefore legal to ship to all 50 states in the U.S.  Subscribe to my mailing list for new product updates, sales, and more!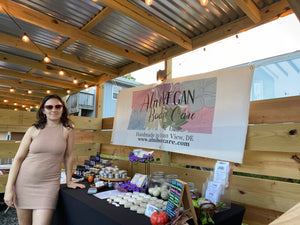 Testimonials
The shower steamers are amazing! They really help with congestion and I feel so calm while showering! I highly recommend them if you're a shower person like myself!!! Great product!

Susan, FL
I've been using Alni Body Care tincture and salves for over a year. The tincture lifts my mood and helps calm my GERD symptoms. The salves relieve my sore, stiff joints in my hands and wrists. I also use the salve for shoulder and back pain and I love all the choices of different scents. Cinnamon and clove is my favorite. I also like grapefruit. Alex is very knowledgeable and her products are the highest quality possible.

Jen M., MD
One of the best products for eczema ever. I went to 3 dermatologists and none of the creams helped my hands. My hands were in complete scabs and were bleeding bad. I started using this cream and within 2 days it started making improvements. I am still using it to this day and continue-to do so as it helps tremendously. My hands now look completely fine and smooth. I highly recommend it to anyone dealing with eczema issue.

Scott S., NY
Love this company! Alex is amazing and really puts her heart into everything she does and creates. I love her salves and the tinctures are my favorite they help me and my little fur baby get through stress/pain etc. Alni Body Care is great and would highly recommend it to any looking for high quality CBD products.



Liz D., CO
Love your products!  I even have my 85 years young mother using the salve for sciatica with better results than pain pills!  We were always concerned with her falling, since her medication makes her dizzy!  This was a blessing to our family and we cannot thank you enough!

Susan S.
I absolutely love this CBD salve! I have stage 1 endometriosis and I have pain almost everyday. This salve works great for pain and inflammation. It's a great formula that's fast absorbing and isn't too greasy like others salves I've tried. The salve smells amazing and it isn't too overwhelming. It's also affordable and the shipping was really fast. I definitely would recommend this brand to my friends and endo sisters!

Brittany P., Ohio
Bought this Unscented CBD salve to try for knee pain and it has really helped. I decided to try it behind my ear for ongoing nerve pain and spasms from Bell's palsy and it was amazing. Definitely will make other purchases. Great communication and fast delivery also.

Renee G., WA
I love this salve!  I have psoriatic arthritis in my hands.  This completely takes the soreness and aches out of them.  Love it!  Thank you

Jessica S., North Carolina
I had a laparoscopic hysterectomy yesterday and let me just say this stuff has saved me from these horrid gas pains in my shoulders/neck and super tense muscles in my back and tummy! 

Maxine R., Florida